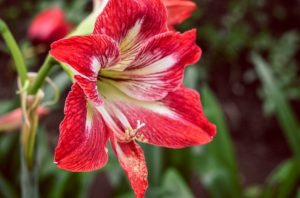 Happy New Year! According to Blum's Almanac, January is going to be a wet month, but hang on – Spring is coming. In the meantime you can prepare for it by doing the following:
Start servicing your lawn equipment for spring. Sharpen blades, check tires for wear and air pressure, and of course, oil, plugs and filters.
Make certain that your bulbs have a good mulch cover. Our up-and-down temperatures cause freezing and thawing conditions. Mulch creates insulation to break the cycle.
If you need some inside color, bulbs can still be planted indoors. Paperwhites grow beautifully in a tall vase of rocks and warm water (throw bulbs away after their fragrant blooms fade) – However Amaryllis can be saved after bloom. They will rebloom for years. if stored properly.
And, as always, January is a great time to start seeds indoors. They can be planted in pots, trays or with the sealed-lid method. Just be certain that the seedlings have warmth, light, and moisture. It's a great entertainment for kids and helps us to pass the extra time indoors.
Main Street will also be reducing inventory so as to make room for new merchandise. Come by and check out our sale items!